Eva Irene Hedden
Parents: Laura Belle House & George Vernon Hedden
Birthdate: 23 Dec 1909 in Welland Co, Ontario, Canada.
Eva Irene Hedden moved to the United States with her parents in 1910. She lived in Oakfield, Genesee County, New York in 1920. Eva eloped with Elmer Augustus Jones on August 24th, 1928 in Warren County, Pennsylvania. The newlyweds moved to Lockport, New York where they raised their only child, Duane George Jones, born on November 27, 1932. After the death of Elmer in December 1964, Eva spent many years traveling around the world with friends, and collected many souvenirs and photos of her travels. She was an avid seamstress, loved to paint, decoupage, and her pets, including a pug named Clancy and a cat named Fritzy. Eva moved to Rochester to be closer to her remaining family members towards the end of her life, and she died on 13 Jan 2000 Rochester, New York. She is buried with her parents in Oakfield, New York.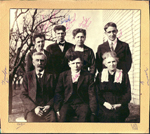 Hedden Family Portrait: Front Row, left to right: James A. Hedden, Sheldon Varcoe Hedden, Emma Lloyd Hedden. Second Row: Anna Irene Hedden Honsberger, George Vernon Hedden, Bertha May Hedden Price, Howard Currey Hedden
Eva's house plans, she built the house on South Transit Rd in Lockport, NY. There is now a Tops Market where the house once stood.
Eva Irene Hedden - birth certificate
Eva's application for naturalization
Eva & unknown
Eva and son Duane "Buddy" on the porch of their Lockport house