Wilhelmina Gilmeister
Parents: Johann Gilmeister & Maria Fahs (Wass)
Wilhelmine Gilmeister was born January 29, 1871 in Scranton, Pennsylvania."Minnie" Gilmeister's parents came from Groß Grenz, Domanialamt Schwaan, Mecklenburg-Vorpommern, German. They emigrated in 1869, traveling aboard the ship "Doctor Barth" and arriving at the Port of New York on December 24, 1869. They were married in Scranton in 1870. They traveled to western New York and settled in the Royalton and Lockport area. They had four children: Henry, Wilhelmine, John Jr, and Friedericka.
Minnie married Augustus Heins Hermann Jonas on 27 Feb 1893 at St. Peter's German Lutheran Church in Wilson, New York. August and Minnie had three children: Mabel, Elmer, and Florence.
Minnie died on 22 Sep 1935 and is interred at the Chestnut Ridge Cemetery.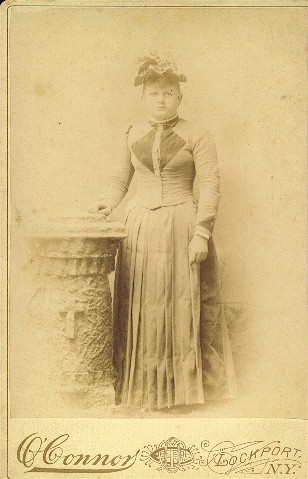 Minnie and sister Friedericka and unknown people
August & Minnie's Wedding Portrait
Mary Wass/Fahs Gilmeister
Friedericka Gilmeister